Written by pikaby
There's been a ton of B/W Pokemon news over the past few days, but I've been busy to talk about them all so I'm going for it in one fell swoop today, on Christmas Day. The biggest of these are, of course, new US names for three Gen 5 Pokemon!
Know the three elemental monkey Pokemon, Yanappu, Baoppu and Hiyappu? These three get English names today, which are Pansage, Pansear and Panpour. The info comes from a leaked shot of the game boxes of Pokemon Black/White, which features a screenshot of the trio monkeys against the three starters in battle.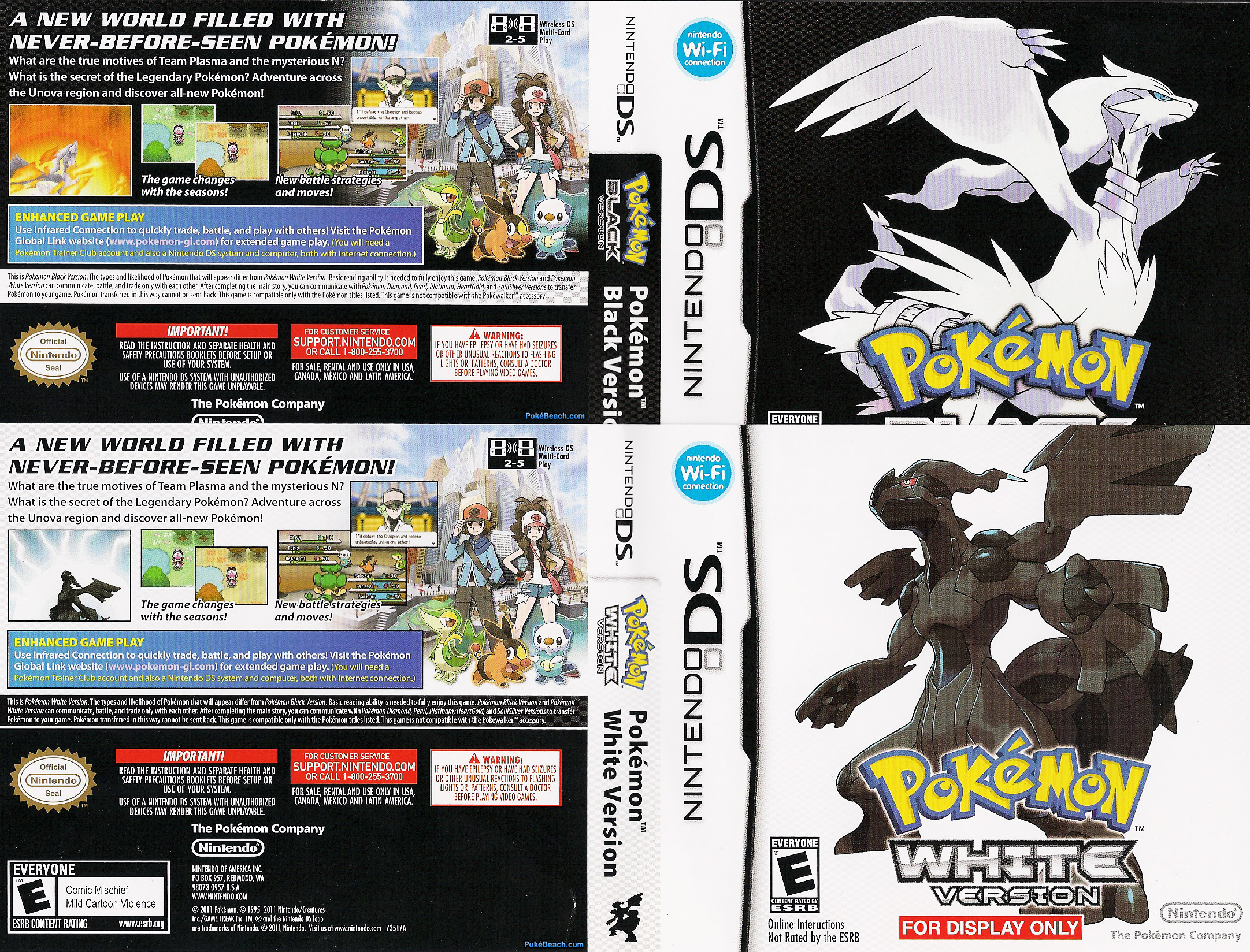 The three names make sense, although I still don't know what the 'Pan' in front means yet. Gamestop pencilled Pokemon B/W's US release date for
April 11th
next year.
Next, some event news. Those of you with Japanese versions have another Wi-fi event starting from somewhere last week which allowed you to download a Pokemon Egg with either Mamepato, Kibago or Yanappu (Pansage) in it, corresponding to the three Pokemon belonging to Ash, Iris and Dento in the anime. Their movesets are exactly the same too.
As for the US, the Shiny Raikou, Entei, Suicune events are about to begin, just like before in Japan, to coincide with the 13th movie release 'Zoroark: Master of Illusions' in February next year. They will be given out at Gamestop in stages: Raikou will be distributed at the stores from January 3rd to the 9th, Entei will be distributed from January 17th to the 23rd, and Suicune's distribution will take place from the 31st to February 6th. The Pokemon can be downloaded to any fourth generation game. Presumably when transferred over to B/W, you get a Zoroark in the same way as in the Japanese games. Together with Gamestop, Toys R' Us joined in on the promo Pokemon fun, distributing Ash's Pikachu from January 30th to February 5th. It's the usual stuff with the usual anime moveset and is holding a Light Ball.
Dream World now. Starting yesterday, Pokemon Center released a special catalogue with new furniture for the Dream World! Go to the Pokemon Global Link's campaign page and redeem the gift for free. The furniture you'll get will be the ones shown below.
Two Pokemon Center store shelves, a Pokemon Center carpet, three Gen 5 starter Pokedolls (which are just as tiny as the real thing- I bought a Togekiss doll and was surprised by how small it was!) and a clothes hanger. I brought the flowers and low table over to this side of the room too.
Then a new C-Gear skin of Tabunne, emblazoned with the Pokemon Center logo, their second gift to players this Christmas. Go to the campaign page as usual and enter the password 'Pokemon Center' in katakana (ポケモンセンター). The skin looks like this:
Thirdly, the Dream Point requirements to get into special areas and to access special Pokemon have been cut by roughly half. It took 5000 DP to get into the Sky area, now you only need 2500 DP. Pokemon which can only be seen after getting 15000 DP can now be befriended at 7500 DP, and so on! This is completely good news...oh, there's more? The 50 Pokemon limit from the Dream World was just a rumor- you can befriend as many as you like, though you're still only limited to one per go. You also now have the option of ending Dream World without waking your Pokemon up.
That. Was a lot. I'm going to go enjoy my Pokemon-filled Christmas now. Enjoy yours too!