Written by pikaby
The Pokemon Ranger series advances rapidly with each game in the series(well, like most good games then). Here are some of the good new features that weren't in previous Ranger games, that I've found out so far.
PokeAssists no longer involve your Capture Line. Instead, the Pokemon itself will come out and attack for you, and once it's been used, it doesn't get released, but instead goes back to your party to recharge. It gets released if it's hit by an enemy move.Video for details.
Ranger Signs. These let you summon certain Pokemon by drawing a one-stroke line on the touch screen, such as Raikou and Entei. You can ride on them and go faster, eliminating the need for Doduo to exist (hah!). Video for details.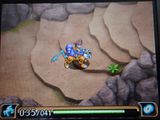 Ranger Points. While the previous games gave you more space for your captured Pokemon, increased partner gauges and Styler charge as rewards for completing missions, Tracks of Light takes a different approach. For completing missions and quests you get Ranger Points. These can be traded in for more HP, Power, line length and so on. Much more flexible. Oh, and you get to hold 7 Pokemon right off the bat. Also eliminates the need for Ranger Ranks.
Clearing obstacles may require more than one Pokemon. Example picture below.....sometimes things may need the assistance of more than one Pokemon. Like the example, to clear out a large fire, you need 3 Pokemon with the Water Field Ability, and each one must be at least power level 2.
Pokemon with Angry status. Sometimes a Pokemon will start out or gain a red health bar while you're trying to capture it (example picture below). Especially when the Pokemon Nappers are involved. The red bar renderes your Styler almost useless against it- you have to use PokeAssists or Ukulele Pichu to finish off the red bar. Or if you're pro enough, keep looping around the Pokemon with your line. You deal about 10% of damage of what you can usually do with a regular loop, which is very much reduced. And this makes bosses a bigger pain in the ass.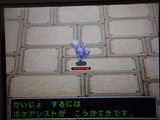 Loop combo increases damage done. Pokemon Ranger 1 focused solely on consecutive loops to capture a Pokemon. Ranger 2 focused on getting the Pokemon's HP bar to zero. Ranger 3 melds both systems together perfectly. You still work on getting a HP bar to zero, but the game rewards you by increasing your damage done every 5 consecutive loops you make, up to 50. Very nice.
Stricter bonus points system for capture. You know, the extra points you get for getting no damage done to your styler, capturing quickly and with only one line, that sort of thing. Now those bonuses no longer add to your EXP, but instead add to your grade only. No bonus points = C rank, 1-4 points= B rank, 5-9 points = A rank, and 10+ points = S rank. For each S rank you get1 Ranger Point. And trust me, S isn't as easy to get anymore.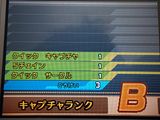 And that's about all I found out in my first six hours with the game. Again, I'll keep everyone posted as I play more~!